What Should You Do if You Suspect Your Metal Hip Replacement Is Defective?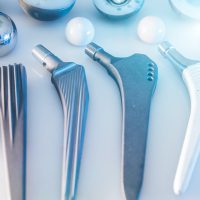 We've talked about it before, but we'll say it again: metal-on-metal hip replacement devices are dangerously defective. Tens of thousands of patients around the country have suffered pain, debilitation, and worse as a result of defective hip devices implanted over the last few decades. If you believe you've been fitted with a defective metal hip implant, there are a few important steps to take to preserve your health and your rights. Read on for advice on what to do once you believe your hip implant may be defective. If you were hurt by a defective medical device in California, call a dedicated California medical device defect attorney at the Morris Law Firm for help with your defective products liability claim.
Talk to Your Doctor
If you've identified any symptoms of a defective metal hip device, or if you have other reasons to believe that your hip implant may be defective, go see a doctor immediately. You may be suffering ongoing damage to your joints, muscles, nerves, and bones. Moreover, you may be experiencing or at risk of experiencing severe side effects of metallosis and metal blood poisoning.
Get to a doctor soon, advise them of your symptoms and your concerns, and get the appropriate diagnostic tests to find out what harm you may be suffering. You may need to have the device repaired or replaced, and the sooner you act, the more you will protect your health from further consequences.
Talk to a Defective Products Lawyer
If you discover you've been fitted with a defective metal hip replacement, call a products liability attorney as soon as possible. Once you discover the defective product and related injury, the clock starts ticking to protect your legal rights. You may be eligible for a significant monetary recovery, including compensation for any medical procedures you are forced to undergo as a result of the defective product. Your right to compensation depends on you acting fast, however, and following the proper steps to build your case. Talk to an experienced defective medical products lawyer to determine what to do next.
Consider Your Legal Options
If it turns out that your hip replacement device is, in fact, defective, then you have legal rights. You can certainly get the device removed or replaced, if necessary, and seek compensation from the manufacturer for the medical costs you incur. If you have any other pain, inconvenience, injury, illness, or issues resulting from your defective device, you can seek compensation for those harms as well.
Talk to your product defect lawyer to discuss your options and your potential routes for recovery. You could be entitled to damages including:
Medical bills, including both past and future anticipated costs
Costs of replacement prosthetics
Any wages you've lost while recovering
Loss of earning potential as a result of long-term illness, injury, or disability caused by the defective device
Pain and suffering caused by the device and resulting ailments
Emotional distress and other psychological harms caused by pain, disability, disfigurement, loss of life enjoyment, and other issues
Call Morris Law Firm for Help With a Defective Hip Replacement Device Claim in California or Nationwide
If you have been injured in Southern California or anywhere in the country by a metal-on-metal hip replacement or another defective medical device, call a zealous product defect attorney today at the Morris Law Firm. We'll help you fight for the compensation you deserve if you have been seriously injured by a recalled medical device or other defective product.