Metal-on-Metal Hip Replacement Side Effects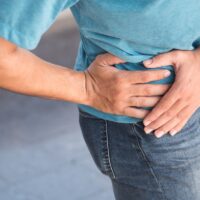 At one point, metal-on-metal hip replacement devices were hailed as the wave of the future. These devices incorporate a design using both a metal ball and a metal socket that work together to replace failing hip joints. They were meant to be more durable and stable than their plastic predecessors. Over time, however, patients and the medical community began to realize that all-metal hip implants caused more problems than they solved. Metal-on-metal hip implants carry a host of painful, debilitating side effects, ultimately requiring removal, replacement, and other medical treatments. Read on to learn about the dangerous side effects of metal-on-metal hip replacement devices, and if you are suffering from a defective hip implant or other medical device, call a knowledgeable California medical device defect attorney at the Morris Law Firm for help with a products liability claim.
Metallosis and Metal Poisoning
The most severe dangers associated with metal-on-metal hip implants result from the degradation of the devices over time. The devices are designed with all-metal parts that scrape against one another as the device is used over time, as the patient walks and moves around. As the parts rub against one another, metal particles flake off and escape into the surrounding tissue, bone, and bloodstream.
When the metal particles cause damage to the tissue surrounding the implant, it can lead to metallosis. Metallosis can cause deterioration of the soft tissue in the area around the implant and other places impacted by the metal flakes (a.k.a. fibrosis), as well as the death of the cells in the soft tissue around the joint (a.k.a. necrosis).
The side effects can become even more severe when the metal particles enter the bloodstream and travel throughout the body, infecting other areas. This can lead to various types of metal poisoning or blood poisoning, such as chromium poisoning, nickel poisoning, or cobalt poisoning. Symptoms of metallosis and metal poisoning include:
Skin irritation and rash around the implant site
Inflammation of the joint
Pain in the joint, or around the hip and groin
Bone loss or bone death
Numbness or tingling sensation
Circulatory problems
Impairment to the renal functions
Heart problems and heart failure, including cardiomyopathy
Disruptions to the thyroid, leading to neck discomfort, fatigue, weight gain, or cold feeling
Metal blood poisoning can also spread to the brain, leading to neurological damage. Side effects of neurological damage associated with metal-on-metal hip implants include confusion, peripheral neuropathy, memory loss, fogginess, impairments to hearing and vision, vertigo, and mental health conditions such as depression or anxiety. If you notice any cognitive changes or mood changes following a hip implant, see your doctor as soon as possible to check for metallosis and other conditions.
Contact Morris Law Firm for Help With a Defective Products Claim in California or Across the Country
If you have been injured in Southern California or beyond by a defective medical device or another consumer product, reach out to a seasoned product defect attorney today at the Morris Law Firm. We can help you gain the compensation you deserve if you have been seriously injured by a recalled medical device or other defective product.