Signs and Symptoms of Metallosis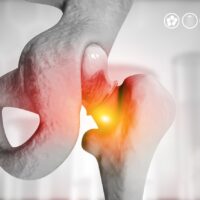 Metallosis is a serious medical condition that has been linked to defective metal-on-metal (MOM) hip replacement devices. In recent years, thousands of lawsuits have been filed against manufacturers of MOM prosthetics as patients discover painful and debilitating side effects months or years after installation of the devices. Read on to learn about metallosis and the dangers of MOM prosthetic hips, and if you have been harmed by a metal hip replacement or another defective medical device, call a dedicated Los Angeles metal hip replacement and recall attorney for advice and representation.
What is Metallosis?
Metallosis is a form of blood poisoning. The condition can occur when there are high levels of toxic metals in the blood. Metallosis is one of the principal and most dangerous side effects of defective MOM hip replacement devices.
MOM hip replacements and other metal implants are made from a blend of several metals including chromium, cobalt, and nickel. The devices are constructed with multiple metal parts that rub against each other with use, causing microscopic flecks of metal to scrape off over time. These metal flakes then enter the surrounding tissue and the bloodstream. As the metal builds up in the tissue, bone, and bloodstream, the patient can suffer from the harmful effects of metallosis blood poisoning.
How Do I Know if I Have Metallosis?
Metallosis is a painful and debilitating condition. The buildup of toxic metal can cause acute problems around the site of the implant as well as more widespread problems caused by the toxic metal, including damage to the nervous system. Common symptoms of metallosis include:
Skin rash and skin sensitivity around the implant
Inflammation
Sensitivity and pain around the implant or around the hip and groin
Bone loss
Tissue death around the implant
Pain
Numbness
Shortness of breath
Problems with the circulatory system
Patients with a hip implant who notice any of the above symptoms should see a doctor immediately. They may be suffering from mild to severe metallosis, which can worsen with time.
The Long Term Dangers of Metallosis
Metallosis can have a broader effect on the circulatory system of the patient. Metallosis can impair the flow of blood between the body and brain, leading to a number of side effects. If left untreated, metallosis can lead to severe problems including:
Heart problems and heart failure
Nerve problems like peripheral neuropathy
Cognitive impairment, including confusion, memory loss, and fogginess
Mental health conditions such as depression and anxiety
Impaired vision and blindness
Vertigo
Impaired hearing and tinnitus
Additionally, prolonged exposure to the metals involved in metallosis may increase cancer risk. Although no study has definitively established a link between metal hip implants and cancer, the World Health Organization International Agency for Research on Cancer lists several of the metals involved as potentially carcinogenic, including cobalt and chromium.
Treatment of metallosis requires surgery to remove the defective implant. Surgery stops the release of additional metal ions in the blood and can remove affected tissue and bone around the implant. Some patients will see a significant improvement in symptoms after surgery, though others may continue to suffer from the effects of the blood poisoning caused to date.
If you've been injured as a result of a metal hip implant or another defective medical device, you need first-class, comprehensive legal help to protect your rights. Reach out to a defective medical products attorney at Morris Law Firm to find out if you have a claim for damages. Morris Law Firm will give you a personalized evaluation and help you figure out your legal rights and next steps. Call us today at 747-283-1144 for a fast response or fill out our online contact form to schedule your free consultation.