How to Write a Demand Letter For a Dog Bite Injury or Attack In CA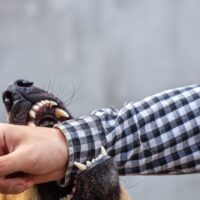 Even before you file a lawsuit, you can start the negotiation process for compensation after a dog bite injury in California. One of your first steps, after gathering supporting evidence and identifying the responsible parties, will be to send a "demand letter" to the dog owner or their insurance company. Below, we offer tips on how you or your attorney should draft your demand for compensation. If you've been injured by a vicious dog in Southern California, call a dedicated Los Angeles personal injury lawyer for assistance.
What Your Letter Needs to Include
A demand letter is meant to briefly lay out the basis for your claims. Your letter should establish the parties involved, state what happened, show why you have a claim for recovery, and explain what compensation you are seeking. Your attorney will draft and send your letter to start the claims and settlement negotiation process.
A comprehensive demand letter should include the following elements:
Statement of facts. A brief, but thorough, explanation of what happened. Where were you, what attacked you, and what happened as a result.
Explanation of liability. Your explanation should identify the owner of the dog and a statement of how the attack creates liability under California law. If it was a bite, state the dog bite rule. For other types of dog attacks, note the appropriate theory of liability.
Breakdown of your injuries. Your letter should include a statement of the injuries you have suffered–broken bones, scratched cornea, spinal cord damage, etc.
Damages you have suffered. Your letter should identify the damages you have suffered and expect to suffer. Note medical bills you have already paid, pain and suffering you have endured, time missed at work, and future costs you expect to incur as a result of the injury.
Copies of supporting evidence. Include copies of evidence to support your claim, including photos of your injury, copies of medical bills, wage loss statements from your employer, statements from witnesses, and any other evidence you have gathered.
Tips for Writing an Effective Letter
Your demand letter kick-starts the legal process, so it is important to start on the right foot. Your letter should not be overly long or complex, but it should be thorough enough to include all important facts.
For example, your letter should go into sufficient detail to explain your injuries without getting bogged down in medical jargon. Explain the severity of your injuries and how your daily life is affected, including your inability to go to work or perform daily activities. Don't forget to include loss of future earning capacity if your ability to perform your job will be affected in the future.
Make sure to include copies of relevant evidence to bolster your claim. Insurance companies and defense attorneys are more likely to agree to a reasonable settlement quickly if you demonstrate that you are already prepared to take the case as far as necessary and that you already have all your evidence bullets in the chamber.
There are a few technical tips to keep in mind as well. If you address the dog owner's insurance company, include the insurer's file number and your claim number on all correspondence. That will prevent your letter from getting lost in the shuffle. Additionally, make sure to send your letter using certified mail with a return receipt requested. That way you will know when the letter arrives, and the insurer or defendant cannot pretend they haven't received your letter.
If you were injured in an animal attack in Los Angeles, you need experienced, effective legal help to protect your rights. Reach out to a California personal injury attorney at Morris Law Firm to find out if you have a claim for damages. Morris Law Firm will give you a personalized evaluation and help you figure out your legal rights and next steps. Call us today at 747-283-1144 for a fast response or fill out our online contact form to schedule your free consultation.