What to Say and What Not to Say to the Insurance Company After a Car Crash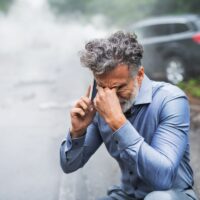 Talking to the insurance company after an accident can be a nerve-wracking experience. It is important to keep in mind that insurance providers are not your friends; they are there to protect their own financial interests. What you say to them after an accident does matter, and it's important to go into any conversation with an insurance provider with a clear head and clear boundaries about what you will and will not discuss. Below, we offer some tips on how to navigate that first call with an insurance claims adjuster. If you or a loved one has been involved in a car accident in Los Angeles, call a dedicated Southern California car accident attorney for advice and representation.
Wait a Minute
Calling the insurance company–both your insurance company and the other driver's–should not be your first priority. Talk to the police, gather contact information from the other driver and witnesses and, most importantly, go see a doctor. Even if you are not seriously injured, getting medical attention should still be your top priority. Give yourself a moment to collect yourself and take care of your medical needs before worrying about your legal interests. You should still report the accident within a day or two if you can, but give yourself the chance to collect your thoughts before you make the call.
The Basic Details and No More
When you make your first call to the claims adjuster, you should provide only the bare details of the accident: Who was involved, where and when it happened, etc. Do not provide your own opinions, and do not go too heavily into any details. There may be any number of factors about which you do not yet know, such as faulty vehicle parts, defective roads, intoxication by the other driver, etc. Talk to a personal injury attorney before you go into any more details about the accident with the insurance companies.
Limited Personal Information
The "just the basics" applies to your personal information as well. You can provide your name, address, and phone number, but you should not go into detail about your occupation, your income, your schedule, or other pertinent information at that time.
No Official Statements
Avoid agreeing to give a recorded "official statement" on the accident. Talk to your lawyer first to make sure you know what you want to say. You are not obligated to record a statement for the claims adjuster at that time, and what you say could be used against you later on. Insurance companies may push for you to give a tape-recorded statement as soon as possible, or may casually ask to record the conversation, but you are under no legal obligation to be recorded.
Don't Talk About Your Injuries
At most, you can mention that you believe you have suffered some injuries. Do not go into detail about the nature and extent of your injuries. You might not know the full extent of your injuries, and your descriptions may ultimately hurt, rather than help, your claims. You might leave something out, you might misdiagnose yourself, or you might discover additional injuries later. Tell the insurance representative only that you are "still seeking treatment" and will provide additional details "at the appropriate time." Ultimately, you and your attorney will work out what exactly to say about your injuries when you have the complete picture.
Do Not Admit Fault
Under no circumstances should you apologize or tell the insurance adjuster that the accident was your fault. Even if you committed an error, the other driver might also share fault, and other relevant circumstances may arise. Moreover, admitting to any kind of fault at the start will significantly affect settlements and other legal matters. The insurance companies will hammer out fault at a later date, and you want to save your side of things for when you have an attorney representing you and protecting your interests.
If you were injured in a car crash in Los Angeles, you need talented, professional legal help to protect your rights. Reach out to a California auto accident attorney at Morris Law Firm to find out if you have a claim for damages. Morris Law Firm will give you a personalized evaluation and help you figure out your legal rights and next steps. Call us today at 747-283-1144 for a fast response or fill out our online contact form to schedule your free consultation.