Stop Sign Law and Car Accidents in California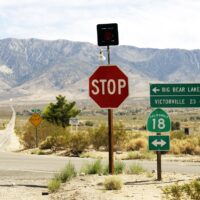 Many people have heard the term "California roll," referring to drivers who slow down at a stop sign, casually check left and right, and then keep going across an intersection without ever fully stopping. The term may have entered the pop-culture vocabulary, but nowhere in the law was the California roll made legal. Running a stop sign is dangerous and can lead to a catastrophic accident. If you've been injured in an accident involving a driver floating past or running a stop sign, call a trusted Southern California car accident attorney for advice and representation. Read on to learn about how California's stop sign law applies in California car crashes.
California's Stop Sign Law
California Vehicle Code section 22450 requires that any driver who approaches a stop sign at the entrance to or within an intersection must come to a complete stop. They must stop at the limit line or crosswalk, if marked, or otherwise stop fully at the entrance to the intersecting roadway before crossing. The same rule applies when approaching a stop sign at a train track.
Additionally, California Vehicle Code section 21802 provides that a driver approaching a stop sign at an intersection other than a four-way stop intersection must stop and yield the right-of-way to any vehicles that have approached from another highway or that are approaching so closely as to constitute an immediate hazard. Drivers must wait for those vehicles until they can proceed with reasonable safety. Once a driver has yielded properly, they can enter the intersection, and other vehicles must yield right-of-way in turn.
What if a Crash Involves a Stop Sign Violation?
If you were injured in a car accident in California, and another driver caused the crash, then you can recover damages from that at-fault driver. In order to recover damages from the other driver, you must establish that that driver was negligent. A driver may be negligent when they violate a traffic safety law or otherwise violate their general duty to operate their vehicle with reasonable care.
Traffic safety laws are meant to protect everyone on the road and limit the incidence of car accidents. Violation of a traffic safety law may constitute negligence "per se," meaning automatic, definitive proof of negligence, in a personal injury matter. Violating a safety law is negligence per se when the defendant violated a traffic safety law, the plaintiff (injury victim) is a member of the group of people the traffic safety law was intended to protect, and the plaintiff suffered the type of injuries the law was enacted to prevent. If you were hit while crossing an intersection by a driver who skips through a stop sign, you are certainly the type of person the stop sign law was meant to protect–people crossing the intersection–and any injuries that result from your accident are the type of harm the stop sign law was meant to protect.
Negligence per se is a rebuttable presumption, meaning that a defendant can still counter or challenge the presumption that they were negligent. For example, a defendant might be able to show that their actions were reasonable under the circumstances, such as if they swerved into the intersection without stopping in order to avoid hitting a child.
Other factors may come into play that affect your recovery, including whether you also were acting negligently and your actions contributed to the crash, and whether you can prove that your injuries were caused by the accident. A savvy California car accident attorney can help you build the strongest case for maximum recovery.
If you were injured in a car crash in Los Angeles, you need talented and trial-ready legal help to protect your rights. Reach out to a California auto accident attorney at Morris Law Firm to find out if you have a claim for damages. Morris Law Firm will give you a personalized evaluation and help you figure out your legal rights and next steps. Call us today at 747-283-1144 for a fast response or fill out our online contact form to schedule your free consultation.