Motorcycle Laws You Need to Know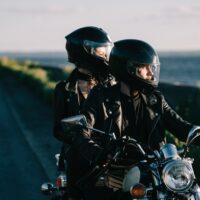 Motorcycles can provide a fun, fuel-efficient, and economical alternative to driving a passenger car. Motorcycles are also significantly more dangerous than passenger cars. Riders are directly exposed to impacts, weather conditions, and other hazards, and they are much more likely to suffer a serious or fatal injury in a given accident than the occupants of a passenger car. There are a few important laws that are important for all motorcycle riders to know, and for anyone else who winds up in a collision with a motorcycle. Read on to learn about important motorcycle laws in California, and if you or someone you care about was injured in a motorcycle accident in Los Angeles, reach out to a dedicated Southern California motorcycle accident attorney for advice and representation.
Helmet Law
California is one of just a few states with a universal helmet law for all motorcycle riders. All motorcycle drivers and passengers must wear a helmet while on a motorcycle, motor-driven cycle, or motorized bicycle. California will penalize drivers who have a helmetless passenger, and state law prohibits riders from riding with a helmetless driver.
Licensing Requirements
To obtain a motorcycle license, riders must first obtain a learner's permit. A rider under age 21 must have a learner's permit for at least six months before applying for a license. Permit applicants must pass a vision test, knowledge test, and skills test. Permit applicants must be at least 15 ½ years old and either already have a driver's license or have completed driver's education and driver's training. To get a license, a rider must complete the proper application and complete a CHP safety program or take a driver's test at the DMV.
Traffic Laws
Motorcycles are subject to the same laws that apply to all other motorists. Motorcycle riders cannot, for example, ride while intoxicated, exceed posted speed limits, pass on the shoulder, or fail to stop at red lights or stop signs.
Daytime Headlights
California law requires all motorcycles built after 1978 to be equipped with headlights that turn on whenever the engine is started. Drivers must keep headlights on at all times, even during the day.
Lane-splitting
Lane-splitting or white-lining occurs when a motorcycle rider rides in between lanes of traffic to get through slow traffic or a traffic jam. It is prohibited in nearly every state because it is considered a dangerous practice. Lane-splitting is not, however, illegal in California. Although it is not explicitly "permitted," there is no longer any law against it. So long as a biker is otherwise following safety regulations and riding appropriately, lane-splitting is not prohibited.
If you were injured in a motorcycle crash in Los Angeles as a driver, passenger, or another motorist, you need dedicated and passionate legal help to protect your rights. Reach out to the California traffic accident attorneys at Morris Law Firm to find out if you have a claim for damages. Morris Law Firm will give you a personalized evaluation and help you figure out your legal rights and next steps. Call us today at 747-283-1144 for a fast response or fill out our online contact form to schedule your free consultation.