MoM Hip Replacement Can Lead to Heart Problems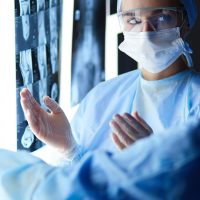 We've discussed the risks of metal-on-metal (MoM) hip replacement devices a few times before. The devices are faulty and prone to becoming dislodged or broken. The various parts scrape together which, over time, can leak poisonous cobalt, chromium, and other metals into the bloodstream, causing a host of side effects. Metal poisoning can cause damage to the blood and tissue around the implant, as well as neurological damage and even vision impairment. Another recent study has even found that MoM hip implants can cause heart problems. Continue reading to learn about metal-on-metal devices and the heart risks they pose. If you've been injured by a defective medical device in California, call a zealous California medical device defect attorney at the Morris Law Firm for help with your defective product liability claim.
What Are Metal-on-Metal Hip Implants?
Hip implant devices are built with a variety of parts that work in tandem to provide hip mobility. These devices can be constructed with plastic, ceramic, or metal parts. When we discuss metal-on-metal or MoM hip replacement devices, we mean devices that are entirely constructed from metal–ball, stem, and shell, all built with metal materials.
At one point, device manufacturers advertised MoM hip implants as the next evolution of hip implant technology, meant to be sturdier than their plastic predecessors. Over the subsequent years, evidence came to light that not only were MoM implants more prone to failure–they posed additional serious dangers.
In particular, the grinding of the various metal parts causes metal ions to flake into the surrounding bone, blood, and tissue. Over time, this buildup of toxic metals can cause several problems at the site of the implant, including bone and tissue death, pseudotumors, inflammation, and pain. Additionally, the metal ions can build up in the bloodstream over time, travel to other parts of the body via the blood, and cause a whole host of serious side effects. Metal poisoning and metallosis can lead to circulatory problems, neurological issues, vision problems, and other conditions. As explained in a recent study, the devices can even cause heart conditions.
Scientific Studies Establish That MoM Hip Prosthetics Can Cause Heart Problems
A study funded by the Sheffield Musculoskeletal Biomedical Research Unit at the University of Sheffield sought to evaluate the health effects of metal exposure in patients fitted with metal-on-metal hip prostheses. Specifically, the authors sought to determine which bodily organs and systems were impacted by the harmful effects of metal poisoning caused by MoM devices. Researchers compared dozens of patients who had previously received a metal-on-metal hip resurfacing with dozens of patients who had received a conventional hip replacement.
Ultimately, the study found "deleterious effects on left ventricular function" for patients who had been implanted with a MoM hip device. They determined there was an "association between cobalt exposure and cardiomyopathy" (heart disease). Notably, the study focused on patients with "well-functioning" MoM hip implants, meaning they did not otherwise suffer complications such as the devices breaking or becoming dislodged. The heart problems were directly associated with elevated metal ion levels in the bloodstream caused by the metal hip devices.
Patients who have a metal-on-metal hip implant should check with their doctor, even if they are not experiencing any serious symptoms around the site of the implant. Patients may have an undiagnosed heart condition caused by metal poisoning. Talk to your doctor, and speak with an experienced defective medical device attorney.
Call Morris Law Firm for Help With a Defective Hip Replacement Device Claim in California or Nationwide
If you have been injured in Southern California or anywhere in the country by a metal-on-metal hip replacement or another defective medical device, call a zealous product defect attorney today at the Morris Law Firm. We'll help you fight for the compensation you deserve if you have been seriously injured by a recalled medical device or other defective product.