Defective Hip Implant Cases: Los Angeles & Nationwide
Overview of Defective Hip Replacement Lawsuits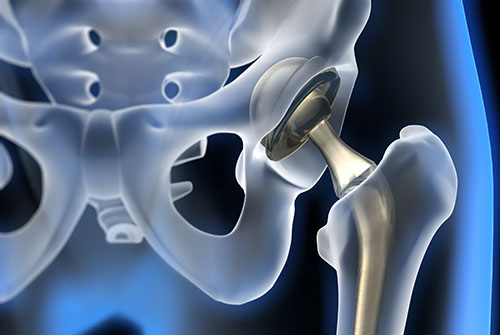 Hip implants are designed to replace the ball-and-socket joint of the hip. The implants generally consist of an artificial ball that fits inside of a cup. In metal-on-metal implants, both the ball and cup are made of metal — usually a combination of chromium and cobalt. While metal hip replacements were designed to be more durable than their ceramic and plastic counterparts, they have been linked to a number of serious health complications.
These complications have led several manufacturers of metal hip implants to withdraw their devices from the market. The manufacturers include Zimmer, Biomet and Encore hip replacements among others. Another common problem with metal hips is that friction between the hips' metal components can cause metallic debris to be released into the body. This condition, called metallosis, can lead to swelling, severe pain, and even blood poisoning in some cases.
Why Zimmer, Biomet and Encore May be Liable for Hip Replacement Lawsuits
Under product liability law, metal hip manufacturers can be made to compensate patients for any injuries caused by defective hips. In a hip replacement lawsuit, the plaintiff typically must prove that the implant had either a design defect or a manufacturing defect, or that the manufacturer gave inadequate warnings about the dangers associated with the implant.
Injured patients have alleged that the metal implants had a flawed design that caused them to fail after only a few years and release toxic metals into the body. Many of these patients claim that they were forced to undergo a painful and costly second surgery (revision surgery) in order to replace the failing implants. Patients have also alleged that the manufacturers failed to provide adequate warnings about the dangers associated with their metal hips.
Metal hip replacements have been responsible for a relatively large number of injuries, including cobalt toxicity, failing mechanical components, and a buildup of metal flakes in the bloodstream. Most hip replacement lawsuits have been focused on product liability, but there may also be instances of medical malpractice.
Medical Malpractice for Hip Implant Injuries
Liability for injuries caused by metal-on-metal hip replacements is generally placed on the manufacturer such as Zimmer, Biomet and Encore. However, in certain circumstances the surgeon who performed the procedure may be liable for medical malpractice. Medical malpractice occurs when a healthcare provider acts in a way that falls below the level of care practiced in the profession, and patient is injured as a result. For example, a surgeon may have made an error while implanting a metal hip, misdiagnosed a patient, or failed to inform a patient about the known risks associated with the procedure.
Safety Risks Associated with Defective Hip Replacements
Metal poisoning (metallosis)
Elevated levels of cobalt and chromium in the bloodstream
Infection
Loosening or dislocation of the hip
Chronic pain
Inflammation and swelling
Limited mobility or flexibility
Pseudo-tumors
Revision surgery
And more
Do You Have a Defective Hip Implant Lawsuit?
Morris Law Firm is currently accepting Encore hip implant induced injury cases nationwide. If you or somebody you know has experienced injuries from a defective hip replacement or potentially experienced medial malpractice, please contact our lawyers immediately. Call us today at 747-283-1144 or fill out the free case evaluation form.