Are Dash Cams Legal in California?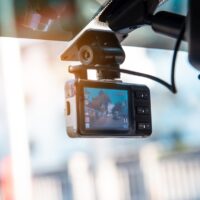 If you've been hurt in a car accident, every little bit of evidence helps. If you are very lucky, you might find footage from a nearby traffic camera, a security camera, or even a witness with cell phone footage. Hit and run accidents can be especially disheartening when you lack direct evidence of who caused the crash. Many clients wonder if the solution is to install a dash cam like the police use–a camera that you attach to your vehicle that records the road in the front of the car. Footage like that would seem to be invaluable in proving a personal injury claim. Does California allow dash cams? Can they be used to support a personal injury case? To learn about dash cams in California, read on. If you've been injured in a car crash in Southern California, call a dedicated Los Angeles car accident lawyer for assistance.
California Dash Cam Laws
Dash cams were legalized in California in 2011. Motorists can install their own dash cams, record footage, and utilize that footage for appropriate purposes. People do not generally have a legal expectation of privacy when located in public spaces such as public roadways. Certain rules must be followed when using dash cams, however.
There are size limitations: Dash cams must be fewer than five square inches if they are located in the upper center of the windshield, and they must be smaller than 7 square inches if they are in the lower right corner of the windshield. They must not be placed in a location that would interfere with airbag deployment. Additionally, if a dash cam records audio as well as video, any passengers inside the vehicle must be notified that their conversations will be recorded. Owners of vehicles with dash cams installed should let anyone who borrows the car know about the cam, or mute/deactivate it for the duration.
Can a Dash Cam Help My Car Crash Injury Case?
California courts accept dash cam footage as evidence in legal matters. If you or another driver has dash cam footage, either party can request and/or produce that footage as evidence in the case. That sort of footage can be especially useful when the parties are not all identified (such as in a hit & run) or where fault is not clear from the aftermath of the wreck. The footage must not be edited for it to be admissible in court.
Dash cams can do more than just capture a visual record of what happened. They can be used to establish a variety of things, including the speed of vehicles involved (for example, by capturing the speedometer of the vehicle in which it is installed), the activities of other drivers just before a crash, license plate numbers, whether other motorists were wearing seatbelts, and braking and steering patterns, among other things. If you were following the speed limit and driving responsibly, the dash cam can be used not only to identify the other vehicles involved (in case of a hit & run) and what happened just prior to the crash; it can also be used to show that you were not driving negligently.
Dash cams can, of course, be a double-edged sword. If you were driving over the speed limit, swerving, or stopping at odd times, the footage may harm your case rather than help. If the other driver is aware you have a dash cam, they can request your dash cam footage in discovery and use it against you. Talk to an attorney about your dash cam if you are pursuing a car accident claim.
If you were injured in a car accident in Los Angeles, you need qualified, talented legal help to protect your rights. Reach out to a California auto accident attorney at Morris Law Firm to find out if you have a claim for damages. Morris Law Firm will give you a personalized evaluation and help you figure out your legal rights and next steps. Call us today at 747-283-1144 for a fast response or fill out our online contact form to schedule your free consultation.