Brake Lining Asbestos Exposure
How Does Brake Lining Asbestos Exposure Occur?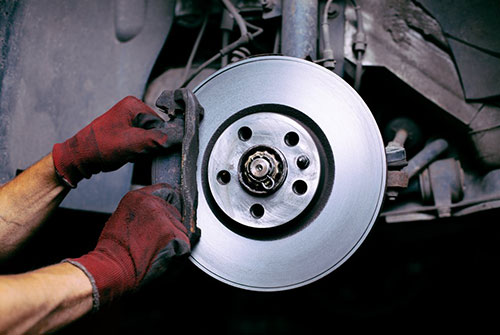 Brake linings are a friction material which help control movement of a vehicle. Brakes use friction to transmit force to a moving part of a vehicle (usually the wheels) to slow or stop it completely. When brakes are engaged, they are subject to high temperatures as the motion of the wheels is converted to heat energy. They also experience some gradual wear from contact with these moving metal parts. In order for brakes to function properly, the brake linings must be replaced or renewed periodically.
Auto mechanics may be exposed to asbestos dust in several ways. In a typical brake repair job, accumulated brake dust must be cleaned away before the old pads or shoes are removed. This is often done with a small brush, or with a blast of compressed air. Either method may cause asbestos particles to become airborne. If the old brake linings are still thick enough to be effective, the mechanic may use a bench grinder to restore the surface, or deglaze the linings of oil and dirt. When installing new brake pads or shoes, the mechanic may grind the surface to speed up the "breaking in" process, bevel the edges with a grinding wheel to reduce noise, and drill or punch holes for rivets. Some manufacturers also recommended scoring the center of the pad with a hacksaw. Any of these tasks could release asbestos particles.
Common Diseases Associated with Asbestos Exposure
The strong link between asbestos exposure and pulmonary disease did not become commonly known until the mid-1970's. Workers who have handled asbestos-containing friction materials and other workers or supervisory personnel working in the general vicinity, may have inhaled airborne asbestos fibers while at work, putting them at significant risk for developing one of these diseases: pleural mesothelioma, peritoneal mesothelioma, pericardial mesothelioma, asbestos cancer and asbestosis. In addition, workers often brought their work clothes home for laundering, bringing asbestos fibers home which also put their family members, especially women at risk for developing one of the above diseases. A disease like mesothelioma has a long latency period which means it can develop slowly, sometimes taking 30 or 40 years following initial asbestos exposure to appear. The mesothelioma prognosis for those diagnosed with the disease is generally not favorable as at this time there is no known mesothelioma cure.
Asbestos and the Auto Industry Today
Though the use of toxic materials, such as asbestos, are regulated by organizations such as the Occupational Safety and Health Administration (OSHA), surprisingly dangerous levels of asbestos dust continue to be found in automotive workshops and garages across the country, where they pose health risks to both auto mechanics and customers.
A recent study conducted by government-certified laboratories on behalf of The Seattle Post-Intelligencer found that more than two-thirds of automotive garages inspected had "dangerous levels of asbestos dust present." Specifically, the asbestos dust levels fell somewhere between 2.26 percent and 63.8 percent. Given the long latency period between exposure to asbestos and the development of mesothelioma and other asbestos-related diseases, this does not bode well for auto mechanics.
If you believe you or a loved one has been experiencing mesothelioma symptoms related to mechanics' asbestos exposure, fill out the form below to schedule a free legal consultation with one of our experienced mesothelioma lawyers.
Contact Lawyer for Mesothelioma Symptoms Related to Brake Lining Asbestos Exposure
If you believe you or a loved one has been experiencing mesothelioma symptoms related to mechanics' asbestos exposure, call us today at 747-283-1144 or fill out the free case evaluation form.