Accident Backing Out of a Driveway: Who Has the Right Of Way?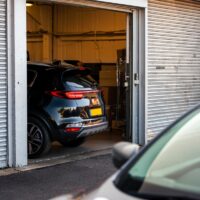 Many accidents occur in parking lots, garages, and just off of residential or commercial driveways. When people start driving, they are often preoccupied with whatever they were doing just before driving, whether that was emailing or texting, looking for directions, or even getting their seatbelt on. Both minor and serious accidents can occur when a driver backs into a lane and another driver is unable to stop in time. When an accident occurs when someone is backing out of a driveway, who is at fault? Who had the right of way? Continue reading to learn how California law analyzes right-of-way. If you were hurt in an accident while you or another driver were backing out of a driveway, call a dedicated Southern California car accident attorney for advice and representation.
California's Flow of Traffic Rule
Establishing fault for an accident requires analyzing many factors, including who had the right of way, what each party was doing, and whether there were any confounding factors. As a general rule, if a car is entering a lane of traffic and they do not have the right of way, then they are required to take care, observe the situation, and yield to drivers with the right of way before proceeding. If a driver without the right of way crashes into a driver with the right of way, the default assumption would likely be that the driver without right of way was at fault for the accident–they had a duty to yield to oncoming traffic and they failed to do so.
In California, the default rule is that the driver in the "flow of traffic" has the right of way. The same rule applies in parking lots, garages, and driveways exiting onto streets. The driver who is heading down the traffic lane has the right of way over the person pulling out of a parking spot. The driver exiting the parking spot is responsible for checking for any oncoming traffic and yielding to any incoming vehicles, or waiting until they have sufficient time and space to exit their spot safely. On average, then, the driver exiting the parking spot is likely at fault for the accident.
Is the Driver With Right of Way Ever at Fault?
Failing to properly yield the right of way is certainly evidence of fault, but it might not be conclusive for the case. If the driver with the right of way was excessively speeding, for example, then they could be partially or even primarily at fault for the accident. If they were driving at 60 mph on a residential street with a speed limit of 20 mph when they collided with a driver exiting a driveway, then they are likely at significant fault for the accident as well.
California law allows parties to an accident to claim comparative fault–even if the driver exiting the driveway was partially at fault, if they can show that the other driver was also at fault, they can reduce the other driver's damages by the amount they were at fault. If you were hit by a negligent driver, you might be entitled to damages, even if you technically should have yielded the right of way in the given situation. Talk to a seasoned car accident lawyer for assistance.
If you were hurt in a car accident in Los Angeles, you need experienced and professional legal help to protect your rights. Reach out to a California auto accident attorney at the Morris Law Firm to find out if you have a claim for damages. Morris Law Firm will give you a personalized evaluation and help you figure out your legal rights and next steps. Call us today at 747-283-1144 for a fast response or fill out our online contact form to schedule your free consultation.