Should I Ride the Ambulance After a Car Accident?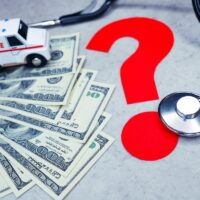 Most people do not think about whether they would ride in an ambulance until they experience a serious injury. Many people are surprised to find out that an ambulance ride is not free. In fact, the cost of an ambulance ride can range from $200 to $2,000. In Los Angeles, the charges average out to around $1,200. If you are in critical condition after a car crash, you won't have much say in the matter–you will be taken to a hospital via ambulance or other emergency vehicle. If you are conscious, however, the emergency response team may ask whether you want to ride in the ambulance or instead get to the hospital on your own, either by driving yourself or having someone else transport you. Continue reading for a discussion about when you should accept an ambulance ride, and what factors you might consider when turning it down. If you or a loved one has been hurt by a negligent driver, call a dedicated Southern California auto accident lawyer for assistance.
Who Pays for the Ambulance?
If you were hurt by a negligent driver, the at-fault driver and/or their insurance will be responsible for covering your medical expenses. Your ambulance ride falls into your covered medical costs. When you recover damages for your injuries, you will be recouped for your ambulance costs, unless for some reason the ambulance ride was wholly separate from your accident.
Even if you were at fault for the crash, or you were injured by a hit-and-run driver and you are worried you will be unable to track them down, you might still have coverage for your expenses. Automobile insurance or health insurance policies often cover emergency transportation services, which would include a ride in an ambulance or a helicopter, so long as the ride was medically necessary. Ambulance rides are considered medically necessary in cases of sudden emergency, or when your health is in danger and timing is critical. It may also be necessary for non-emergency situations, such as when transporting a patient between hospitals. If you were in a car accident and you suffered an injury, your insurance may or may not cover an ambulance ride.
How Serious Was Your Injury?
If you were critically injured, then you do not have a say in the matter. If you are unconscious, if you have suspected serious head or neck injuries, or if you have severe lacerations or broken bones, the EMT may make the decision for you. You will be taken via ambulance to the hospital for treatment, which is as it should be–you need emergency treatment as soon as possible, and you need emergency medical personnel to keep you alive on the way.
Even if you do not feel that you are in critical condition, it might still be advisable to take the ambulance, even if you risk the cost. If are experiencing any of the following symptoms, you could have a more serious injury than you realize and you might need immediate medical attention:
Dizziness
Drowsiness
Blurry vision
Open bleeding from serious wounds
Pounding headache
Broken bones
Loss of any senses such as hearing or sight
If you experience these symptoms, then you might have a serious injury such as brain damage, internal bleeding, organ damage, or a visibly noticeable injury that merits emergency treatment. Your ambulance ride will likely be considered medically necessary in such a case. Whether or not you have these exact symptoms, you might simply feel unsafe driving yourself to the hospital as a result of the crash. You should not feel compelled to put yourself at risk by driving yourself.
If you suffered only minor injury, however, and you feel safe driving yourself to the doctor, then you should do so and avoid risking unnecessary cost. You should still see a doctor as soon as possible after the accident for diagnosis and treatment.
If you have suffered a personal injury in a car, truck, bike, or motorcycle accident, call our seasoned and effective Los Angeles traffic accident injury team to discuss your legal options. We serve clients across Southern California and nationwide. Morris Law Firm will give you a free, personalized evaluation and help you figure out your legal rights and next steps. Call us today at 747-283-1144 for a fast response or fill out our online contact form to schedule your free consultation.