Who is at Risk for Invasive Cancer of the Ovaries Related to J&J Baby Powder Exposure?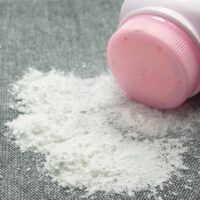 Johnson & Johnson has faced liability in recent years after it was discovered that its baby powder products may cause an increased risk of ovarian cancer in female users. Lawsuits allege that J&J knew about the cancer connection, including that J&J was aware that its talcum powder products contained carcinogenic levels of asbestos. Continue reading for information on at-risk populations for J&J talcum powder-related conditions, and if you or someone you love has become ill because of J&J baby powder, call a zealous Los Angeles products liability lawyer for advice and assistance.
Key Ingredient in Johnson & Johnson Baby Powder Connected to Ovarian Cancer
A number of studies in recent years have suggested that prolonged exposure to talcum powder increases the risk of contracting ovarian cancer, one of the deadliest forms of cancer for women. Ovarian cancer is the leading cause of death of all gynecological cancers and the fifth leading cause of cancer-related deaths among women in the United States.
The links between talcum powder products and ovarian cancer have been shown through dozens of studies. Studies have found that cosmetic talc products such as Johnson & Johnson's talcum powder products increase the risk of ovarian cancer, including because the talc contains asbestos, a known contributor to ovarian cancer. Although mining and manufacturing companies claim that talc mining is now asbestos-free, studies have shown that consumer talc, including talc in "cosmetic" products like J&J baby powder, still contains asbestos.
The American Cancer Society lists talcum powder as a high-risk factor for ovarian cancer. Moreover, the U.S. Food and Drug Administration (FDA) has stated that it's plausible that talc, the mineral used as a key ingredient in talcum powder products, may trigger an inflammatory response that could progress to cancer in exposed women. The World Health Organization's (WHO) International Agency for Research on Cancer has likewise classified the use of talc-based body powder on the genitals to be potentially carcinogenic (cancer-causing) for humans.
Who's at Risk for Ovarian Cancer Relating to J&J Baby Powder?
Johnson & Johnson baby powder is a talcum-powder-based product used by millions of women around the world. In fact, research has shown that as high as 40% of women use talcum powder products for feminine hygiene. These products continue to be a danger for all users, especially women.
Many of the studies that looked at the connection between talcum powder and ovarian cancer focused on genital application. Women who faced the highest risk of cancer were those who applied the products, like J&J baby powder, to their genitals as a form of feminine hygiene. The talc particles travel through the vagina, uterus, and fallopian tubes to the ovaries. The product can then take years to dissolve, causing inflammation in the meantime, which creates conditions that increase the likelihood of cancer growth. Long-term inflammation can lead to the formation of cancerous tumors.
Notably, more recent research has suggested an increased risk of ovarian cancer is present even absent genital application. A study published in the Journal of Occupational and Environmental Medicine in 2020 focused on the inhalation exposure to asbestos during talcum powder application as opposed to the perineal exposure, as had been previously explored. Although the study looked at women with ovarian cancer who had used J&J's baby powder products for perineal application, the study concluded that applying talcum powder to the perineum involved significant levels of inhalation exposure as well. All of the women they reviewed had talc present, and eight of the ten had asbestos in their tissue samples. The study further established the link between talc, consumer talcum powder, asbestos, and ovarian cancer.
If you were hurt by J&J baby powder or another defective consumer product, you need passionate, thorough legal help to protect your rights. Reach out to a defective products attorney at Morris Law Firm to find out if you have a claim for damages. Morris Law Firm will give you a personalized evaluation and help you figure out your legal rights and next steps. Call us today at 747-283-1144 for a fast response or fill out our online contact form to schedule your free consultation.