What to Do After a Car Accident in Los Angeles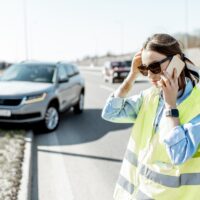 For just about everyone, a serious car accident is a one-time experience. No one is really prepared for what comes next. Car accidents are jarring, unsettling, and scary, all the more so if a serious injury occurs. It helps to have some idea of what to do next. Continue reading for tips on what you should do after a car accident. If you or a loved one has been hurt in a car crash in Los Angeles, call a seasoned Southern California car accident attorney for advice and representation.
Stop and Get to Safety
The first thing to do after a car crash is to get yourself and your passengers to safety. If you can pull over to a safe location, do so. Do not leave the scene. If anyone was injured or if significant property damage occurred, California law requires you to stay at the scene.
Get Medical Attention
If you are seriously injured and need emergency treatment, get to the hospital as soon as you can. Call 911 for yourself or anyone else with a severe injury. If you do not require emergency medical treatment, get to a doctor as soon as you can after you leave the scene. You could have latent injuries such as internal bleeding or a concussion that can get worse without diagnosis and treatment. Additionally, it is important to start building your case for recovery. Seeing a doctor immediately prevents a defendant or insurance provider from claiming that your injuries happened after the accident for some other reason.
Exchange Information
You and any other drivers involved should exchange contact and insurance information. Get their full name, driver license number, license plate number, insurance carrier and policy number, address, and phone number.
Report the Accident
If the accident involved injury or significant property damage, report the accident to the authorities. The police will arrive, investigate, question witnesses, and generate a report. The police report can be one of your key pieces of evidence.
Collect Evidence – Photos, Reports, Witnesses, etc.
Keep a copy of that police report and anything else generated in connection with the accident. Take photos of yourself, your injuries, the cars involved, and the surrounding area (traffic signals, weather conditions, the layout of the street, etc.) Get the contact information for any witnesses so that you, your attorney, and the police can speak with them later. Keep copies of any documents related to the accident, such as medical reports, doctor bills, communications with your insurance provider, communications with your employer, etc.
Get a Lawyer
If you were hurt in a crash, you deserve compensation. In order to maximize your compensation, including coverage for your medical bills, lost wages, pain and suffering, and all other damages caused by the accident, you need the help of a savvy and effective California car accident lawyer. Get a lawyer as soon as you can to start building your strongest case for maximum recovery.
If you were injured in a car crash in Los Angeles or Southern California, you need passionate, dedicated, and effective legal help to protect your rights. Reach out to a California auto accident attorney at Morris Law Firm to find out if you have a claim for damages. Morris Law Firm will give you a personalized evaluation and help you figure out your legal rights and next steps. Call us today at 747-283-1144 for a fast response or fill out our online contact form to schedule your free consultation.