What are Metal-On-Metal Hip Replacement Failure Lawsuits?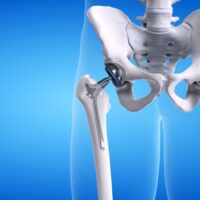 Metal-on-metal hip replacement devices were considered the wave of the future in the early 2000s. However, patients, the medical community, and the legal community learned that these devices are dangerous and defective as designed when thousands of patients needed revisions. Thousands of products have been recalled and billions have been paid out in settlements and verdicts as a result of injuries caused by these defective devices. Below, we discuss metal-on-metal hip implants, what makes them dangerous, and which products to watch out for. If you've suffered because of a defective hip implant or other defective medical advice, call a seasoned Los Angeles metal hip replacement and recall attorney for advice and assistance.
How are Metal-On-Metal Hip Replacement Devices Defective?
Metal-on-metal hip replacement lawsuits came about as word spread about the dangers of metal-on-metal hip replacement devices. Unlike plastic or ceramic devices, metal-on-metal devices use a ball, stem, and shell, all constructed from metal materials. With use, the various parts rub against each other, causing metal bits to scrape off and enter the body. Over time, the tiny metal fragments build up in the soft tissue around the implant and the general bloodstream, leading to a number of medical complications including metallosis, pseudotumors, cobalt and chromium blood poisoning, and neurological disorders
If you have undergone a revision surgery because of one of these conditions in the last few years, you may have a viable claim against the manufacturer of your original implant. Some patients have been led to believe that their claim is not viable if the product was in place over ten years before their revision surgery. That is not the case. The metal-on-metal hip devices were intended to last far longer than ten years.
What are the Dangers of a Defective Metal-On-Metal Hip Replacement?
Metal-on-metal hip replacements carry a number of known dangers. Lawsuits have pointed to a variety of injuries suffered by patients either soon after receiving the implant or years later. Some of the dangerous conditions caused by metal-on-metal hip replacements can take years to develop after regular ambulation and usage over a period of time.
The injuries claimed in hip replacement lawsuits to date include:
Dislocation of the device
Loosening of the replacement implant
Severe pain, swelling, and discomfort in the groin, thigh, or implant location
Metallosis and other metal poisoning
Cobalt and Chromium in the bloodstream
Pseudotumors
Neurological issues
Costly and painful revision surgery to repair, remove, or replace the device
Metallosis and Metal Poisoning
One of the most dangerous effects of metal-on-metal hip replacement implants is metallosis. Metallosis is a form of blood poisoning that occurs when metal flakes slip into the bloodstream over time. This happens as the friction between the metal ball and socket causes cobalt and chrome bits to flake off as the patient walks. The metals released into the bloodstream can cause damage to the nerves, bones, and muscles surrounding the hips, as well as cause damage to the brain, heart, and kidneys. Metal poisoning can lead to rashes, hearing or vision loss, neurological problems, heart failure, kidney failure, and other debilitating problems.
What Brands and Companies Have Been Implicated in Hip Replacement Allegations?
A number of companies have been named in lawsuits concerning metal-on-metal hip replacement failures. Many of these devices have been the subject of product recalls, which can alert patients to the defects. Even if your hip implant has not been recalled, however, that does not mean that it is safe.
Some of the brands and devices that have been either recalled or otherwise targeted in hip replacement lawsuits that we pursue include the following:
DePuy ASR Hip
Zimmer Durom Cup
Biomet M2a Magnum
Wright Medical Conserve, Dynasty and Lineage hip implants
Don Joy Orthopedic d/b/a/ Encore Medical prosthetic hips
If you were hurt as a result of a metal hip implant or other defective medical device, you need experienced, effective legal help to protect your rights. Reach out to a defective products attorney at Morris Law Firm to find out if you have a claim for damages. Morris Law Firm will give you a personalized evaluation and help you figure out your legal rights and next steps. Call us today at 747-283-1144 for a fast response or fill out our online contact form to schedule your free consultation.