Union Pacific Railroad Worker Injury Lawsuit: Los Angeles & Nationwide
Federal Employers' Liability Act (FELA)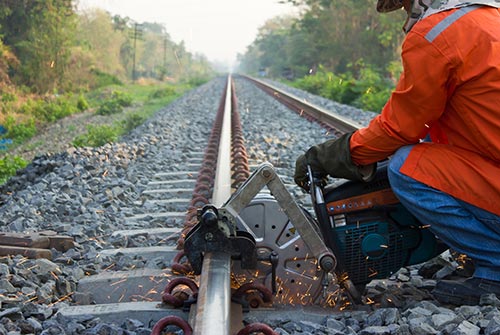 In 1908, congress passed the Federal Employers Liability Act (FELA) to give railroad workers who are injured on the job a means of legal recourse and protective rights. Under FELA, injured railroad employees can file complaints directly against the company if they can prove negligence in causing the injury.
Railroad companies can be found negligent in cases where they:
Fail to provide a safe work environment
Fail to provide proper tools or equipment
Fail to perform frequent inspections and maintenance
Fail to adequately train their employees
Union Pacific Railroad Company FELA Claims and Injury Lawsuits
Union Pacific Railroad Company has and continues to uniquely endanger its workforce as UPRR employees regularly face dangers including (but not limited to):
Equipment failure
Exposure to toxins
Heavy cargo loads (that can increase the time a train needs to properly brake)
Track defects
Use of heavy machinery
Given such specific threats, the Federal Employers Liability Act (FELA) protects Union Pacific Railroad Company employees. Injured Union Pacific Railroad workers should contact one of our experienced FELA attorneys at Morris Law Firm to learn more about their legal rights and find out if they are entitled to a settlement for their injuries and losses.
Are You a Railroad Worker that was Injured?
As a railroad worker, if you have an accident or are injured on the job, you have rights under the Federal Employers' Liability Act. You should seek legal counsel and advice at the earliest opportunity if you believe you have a potential FELA case. Remember, the railroad claim agent is just that – an agent for the railroad. Our lawyers at Morris Law Firm are your representatives as experienced FELA attorneys that will protect your rights.
Asbestos Exposure in Railroad Workers
From 1990 to 1999, the railroad industry was the 4th most frequently listed industry on the death certificates of people over the age of 15 who died from asbestosis. Studies have demonstrated that patients with asbestosis have a greater risk of developing malignant mesothelioma cancer. The large number of deaths in railroad workers from asbestosis is not surprising given the fact that the railroad industry has routinely utilized asbestos products for heat shielding and insulation.
Railroad workers are at risk of developing occupational cancers in a number of ways, due to the many known carcinogens present in the workplace environment. Benzene exposure, asbestos, chemical solvent exposure and exposure to welding fumes are common examples of conditions which can lead to the development of cancer in railroad workers. Unfortunately, these diseases often go undiagnosed in their early stages, making them more difficult to treat and likely to cause serious injury and even death.
Do You Qualify for a Railroad Worker Cancer Lawsuit?
Morris Law Firm is reviewing cases involving current or former railroad workers who were diagnosed with any type of cancer at any time, whether they are currently working or not. You may qualify if you were diagnosed with cancer after working for a railroad. This includes engineers, conductors, switchmen, carmen, track maintenance workers, machinists, clerical workers, and other occupations.
Contact a Railroad Worker Injury Attorney
If you or a loved one is a railroad worker that was injured on the job or diagnosed with any type of cancer, call us today at 747-283-1144 or fill out the free case evaluation form.