Teenage Car Accidents in Southern California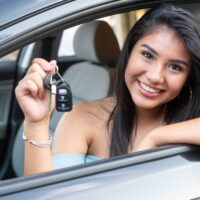 Many states have considered changing or have already moved to change the minimum age for drivers from 16 to 18. Although drivers of any age can be negligent or reckless, there is good reason to believe that teen drivers are especially dangerous. Below, we discuss the dangers of teenage drivers and the response by insurance providers. If you or a loved one has been involved in a car accident in Los Angeles, call a dedicated Southern California car accident attorney for advice and representation.
Teen Crash Statistics
Auto accidents are the leading cause of death for teens. Period. In 2018, nearly 2,500 teens aged 13-19 were killed in car crashes, and another 280,000 were treated in emergency rooms for motor vehicle accident injuries.
According to the U.S. Centers for Disease Control and Prevention (CDC), young males are especially at risk. The CDC reports that the motor vehicle death rate for males aged 16-19 in 2018 was nearly two times higher than the rate for female drivers of the same age. Notably, the risk is higher when a teen driver has additional teen passengers; teens apparently drive more recklessly with friends in the car.
Crashes are also much more likely during the first few months after obtaining a license. Statistics show the crash rate per mile driven is around 1.5 times higher for 16-year-olds than for 18- and 19-year-olds.
Causes of Teen Crashes
Teenagers wind up in car accidents for many of the same reasons as do adults, but at higher rates. Distracted driving is one of the leading causes of fatal accidents among adults and teens. A third of high school students admit to texting or emailing while driving, while 56 percent admit to talking on the phone while driving. Twelve percent of distracted drivers involved in fatal car accidents were aged 15 to 19.
Drinking while driving is also a major contributing factor to teen car crashes. A quarter of all fatal teen car crashes involve underage drinking and driving. 5.4 percent of teens admitted to driving after drinking alcohol at least once in the 30 days prior to a given survey, and a full 16.7 percent admitted to riding with a driver who had been drinking. Teens are significantly more likely to wind up crashing with a given blood-alcohol content (BAC) than an adult driving with the same BAC. Fifteen percent of fatal crashes involving teen drivers had drivers with a BAC of 0.08 or higher.
Simple inexperience is also a large contributing factor. The CDC notes that teens are much more likely than adult drivers to underestimate or fail to identify dangerous situations. They are also less adept at making critical decisions necessary to avoid catastrophic crashes.
Insurance Costs for Teen Drivers
Auto insurance companies are well aware of the risks of teenage drivers. As a result, they charge significantly higher premiums for young drivers. Research indicates that adding a 16-year-old driver to a car insurance policy is likely to increase premiums by around 130% to 140%, meaning an extra $2,000 annually. In California, the average is even higher: Adding a teen is likely to increase premiums by an average of 217%. Insurance rates for an individual driver drop by as much as 50% when a driver reaches age 20, and they decrease by another 25% by the time the driver hits age 30.
If you were injured in a car crash in Los Angeles, you need experienced, excellent legal help to protect your rights. Reach out to a California auto accident attorney at Morris Law Firm to find out if you have a claim for damages. Morris Law Firm will give you a personalized evaluation and help you figure out your legal rights and next steps. Call us today at 747-283-1144 for a fast response or fill out our online contact form to schedule your free consultation.