National Gypsum Asbestos Exposure Lawsuits: Los Angeles & Nationwide
About National Gypsum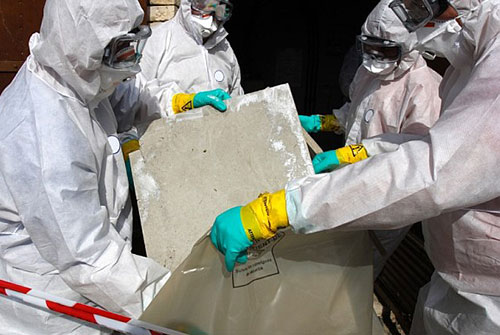 National Gypsum is a successful producer and seller of gypsum wallboard. In fact, the company is one of the largest manufacturers of gypsum wallboard in the world and the second largest in the U.S. The company operates from Charlotte, North Carolina and still sells its construction materials under the Gold Bond brand. In addition to Gold Bond gypsum board, the company also sells ProForm drywall products and PermaBase cement board.
Use of Asbestos in National Gypsum Products
National Gypsum manufactured and sold many products that contained asbestos. Many of these products were marketed under the "Gold Bond" brand name. Potentially dangerous National Gypsum products that contained asbestos included wallboard, roofing, shingles, cement board, gaskets, cements, adhesives, plasters, compounds, fireproofing materials, pipe covering and ceiling panels. Asbestos was chiefly used for its insulating and fire-resistant properties, and because it was readily and cheaply available. It was later discovered that asbestos dust can cause a number of potentially fatal diseases, most notably malignant pleural mesothelioma.
Asbestos was commonly used in a range of construction materials before the 1970s. National Gypsum was not alone in using asbestos in gypsum wallboard and other products. Asbestos adds insulation to these products, fire protection, and strength and durability without extra weight. While the bulk of the wallboard was harmless gypsum, asbestos was a part of the recipe for many years. Almost every Gold Bond-branded product the company made at one point used asbestos in it.
Asbestos Exposure
By using asbestos in the recipe for so many products, National Gypsum put a lot of workers at risk for having later health problems, including the progressive lung condition called asbestosis, mesothelioma, and lung cancer. Workers in the National Gypsum facilities that made the products were put at risk because they were around asbestos, and many even handled it. Asbestos is composed of tiny fibers. These can easily be disturbed and become a part of the dust and air in the facility that workers may then inhale, causing damage and for some, later illnesses.
It was not only National Gypsum workers who got sick, though. Any workers who used their products in other industries were at risk. This was especially true for construction workers. These workers installed, replaced, and dismantled things like wallboard with asbestos. They sanded these materials and created asbestos dust. Any workers around or working with these products were at risk, including painters, plumbers, electricians, carpenters, plasterers, drywall installers, and others. They may also have brought asbestos dust home on their clothing, putting family members at risk too.
Contact a National Gypsum Asbestos Exposure Attorney
As the dangers of asbestos became well known and people started getting diagnosed with asbestos illnesses such as mesothelioma, National Gypsum began seeing lawsuits from victims. If you believe you or a loved one has been experiencing mesothelioma symptoms related to national gypsum asbestos exposure, call us today at 747-283-1144 or fill out the free case evaluation form.