James Morris Discusses Johnson & Johnson $72 Million Cancer Lawsuit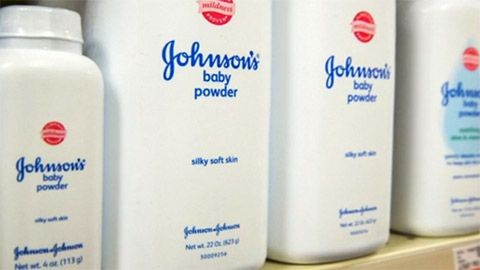 A jury has ordered Johnson & Johnson to pay $72 million in damages to the family of a woman who claimed she developed cancer after using the company's baby powder.
Jacqueline Fox, of Tarrant, Alabama, was among 65 women who sued the company in June 2014.
The women claimed they had developed ovarian cancer after using products containing talcum powder.
They alleged their diseases were "a direct and proximate result of the unreasonably dangerous and defective nature of talcum powder," according to a copy of the lawsuit.
The products named in the lawsuit were Johnson & Johnson's Baby Powder and Shower to Shower, a feminine hygiene product.
The women claimed that the company knew that talcum powder had been suggested as a link to ovarian cancer as early as 1971, but that the concerns were ignored.
"[Johnson & Johnson] procured and disseminated false, misleading, and biased information regarding the safety of the products to the public and used influence over governmental and regulatory bodies regarding talc," the lawsuit states.
The case was tried in St. Louis County Circuit Court in Missouri, after which jurors found the company guilty of negligence, conspiracy, and fraud, according to a statement from the Fox family's law firm Beasley Allen.
Ted G. Meadows, a principal at the firm, said in the statement Fox was an "incredible lady whose life was cut far too short by the callous decisions by the bosses at Johnson and Johnson."
"Inside J&J folks have known for decades, literally decades, that the talc contained in its products could cause cancer," he said. "Instead of warning customers, J&J executives made the deliberate decision to hide the risk and keep on selling."
The mom had used Johnson & Johnson's products for decades for feminine hygiene when she was diagnosed, according to the law firm.
Her son, Marvin Salter, posted a tribute to his mother on Facebook before the verdict was announced.
"My dear sweet mom," he wrote. "The pain of [losing] you is so hard but I'm thankful your suffering is over. Forever your prince."
The case is just one of many filed against the company over the ovarian cancer claims.
About 1,000 lawsuits have been filed against Johnson & Johnson over the cancer claims in Missouri, and 200 have been filed in New Jersey, Reuters reported.
James A. Morris Jr., a Los Angeles-based product liability attorney, told BuzzFeed News he thinks the recent verdict will open the floodgates for multiple cases against Johnson & Johnson over similar claims.
"It's a huge verdict in what could become a very large mass tort," he said.
Morris hopes cases like these will "hopefully educate the public" of the alleged risks of using talcum powder, and help those who feel they were affected get compensated, he added.
Studies examining whether talcum powder can lead to an increase in ovarian cancer in women have reported mixed results, according to the American Cancer Society.
"Many studies in women have looked at the possible link between talcum powder and cancer of the ovary," the organization says on its website. "Findings have been mixed, with some studies reporting a slightly increased risk and some reporting no increase."
"Many studies in women have looked at the possible link between talcum powder and cancer of the ovary," the organization says on its website. "Findings have been mixed, with some studies reporting a slightly increased risk and some reporting no increase."
"Many studies in women have looked at the possible link between talcum powder and cancer of the ovary," the organization says on its website. "Findings have been mixed, with some studies reporting a slightly increased risk and some reporting no increase."
"Many studies in women have looked at the possible link between talcum powder and cancer of the ovary," the organization says on its website. "Findings have been mixed, with some studies reporting a slightly increased risk and some reporting no increase."