What to do When You're Injured by a Defective Product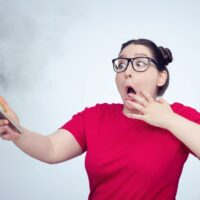 Defective product injuries are unexpected and jarring. One second you're lighting your gas stove to cook breakfast, the next you're on your back and fighting off second or third-degree burns. Medical product injuries can be even more surprising; you took the advice of your physician, obtained a medical implant or prosthetic, only to discover that you are worse off than before. Thousands of patients around the country, for example, discovered that their metal-on-metal hip implants were dangerously defective at the time they were installed, and suffered a serious injury, illness, and debilitating side effects as a result. If you are in an accident involving a defective product or discover that you are suffering illness or injury because of a defective medical device, it's important to take the right steps to preserve your legal claims. Read on for a discussion of important steps to take after a defective product injury, and call a knowledgeable defective device injury lawyer for help with a products liability claim.
See a Doctor
The first thing you should do after any defective product injury is to seek medical attention. Whether your injury was caused by a defective home appliance such as a washer explosion or a defective medical product such as a faulty hip implant, you need to see a doctor. Find out precisely what is wrong, what is the extent of your injuries, what are the likely treatments, and what are the likely costs. The longer you wait to see a doctor, the worse your injuries might become, and the harder it may be to prove that those injuries were caused by the defective product.
Document Everything and Keep Records
The more evidence you can gather pertaining to your claim, the better. If you were injured by a consumer product, take pictures after the incident–pictures of your injuries, of the defective product, of the surrounding area, etc. Keep copies of any and all documents generated in connection with your injury. That means medical records, police reports, medical bills, communications with your employer, communications with your insurance company, and any other documents relating to your accident. Any or all of it may be helpful or necessary to prove your case, and the more you can share with your attorney on day one, the stronger your case will be.
Find Out if Your Product is Subject to a Recall or Lawsuits
Manufacturers of defective products are required to issue recalls when they discover that their products don't work or present a danger to customers. If you were injured by a consumer product, or if you suspect your medical device might be causing you harm, conduct searches online to find out if you're not the only one. If you have a metal hip implant from DePuy ASR, Biomet, Pinnacle, Zimmer, or Stryker, for example, your device was likely subject to a recall or withdrawal of FDA approval. A recall shows that the company was aware of the problem that led to your injury, and lets you know that you could have a claim for any injuries you sustained as a result.
Talk to a Lawyer
Products liability claims are notoriously complex. To properly recover, you'll need to find out exactly what went wrong with your product and demonstrate that it was the manufacturer's fault. There are several different types of defective product claims–they may be defective as designed, defective as manufactured, defective because of inadequate warning labels, etc.–and each kind of defect requires different types of evidence and different legal arguments. Some cases can be won through strict liability, some through reliance on the warranty, and others by proving negligence. If your claim involves a defective medical device, you may need to bring in medical experts, prior case law, medical studies, and other technical evidence. All of those factors exist on top of the usual legal procedure, ensuring that your claim is preserved and timely brought.
If you hope to have a good chance of securing compensation for your injuries, you need a savvy defective product attorney on your side. The sooner you get a qualified products liability lawyer in your corner, the stronger your case will be and the sooner you are likely to receive the compensation you are owed.
Call Morris Law Firm for Help With a Defective Products Claim in California or Nationwide
If you have been injured in Southern California or beyond by a medical device or another consumer product, reach out to a seasoned product defect attorney today at the Morris Law Firm. We can help you gain the compensation you deserve if you have been seriously injured by a recalled medical device or other defective product.