How to Tell When Your Hip Implant is Defective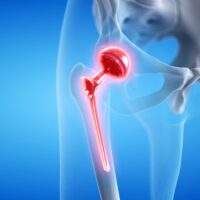 As we have recently discussed, metal on metal hip implants can present a serious risk to patients. They can create functional limitations, lead to chronic pain, cause blood circulation issues and neurological problems, and any number of other temporary and permanent medical issues. Below, we discuss some of the warning signs that your hip implant may be defective and why your surgeon may have recommended or performed a revision surgery. If you or someone you care about has been hurt by a metal on metal hip replacement or another malfunctioning medical device, call an experienced and competent Southern California defective medical device injury lawyer for assistance.
Warning Signs of a Defective Hip Implant
Hip implants can be defective in a variety of ways. As the medical literature illustrates, many metal on metal hip implants were defective as designed and created a serious risk of metallosis and need for revision. In addition to metallosis and blood poisoning, metal on metal hip implants can cause blood clots in the legs and pelvic area. Pseudotumors are also a risk created by metal on metal hip implants. If you have undergone a revision surgery, your surgeon may have identified one of these conditions as the reason for your revision. If you have
To identify if you have a defective hip implant, watch out for these warning signs:
Pain and discomfort in the hip, groin area, lower back, or legs
Trouble standing or walking
Creaking noises in the hip joints
Swelling or inflammation in the hip area
Fatigue
Limp developed over time due to weakening implant
Limitations on flexibility or range of motion
Feeling of instability in the hip joint
Feeling of deterioration or damage in the hip joint
Metallosis, a tissue destruction caused by metal on metal corrosion over time and high cobalt and chromium ion levels in the blood can be detected through blood tests and ultimately confirmed by pathology testing or during revision surgery. Symptoms of metallosis include numbness, bone loss, severe pain, neurological changes, circulatory limitations, sensitive skin and skin rash, cognitive impairment caused by limited blood flow, and difficulty walking, running, swimming, or otherwise moving around.
It is very important to watch out for these symptoms. While there may be a period of pain or discomfort shortly after rehabilitation, when the implant has been around for a while, you should no longer be experiencing discomfort. Likewise, there should be no swelling after the rehabilitation has passed. If you are experiencing inflammation, pain, discomfort, functional problems, or if you can feel a hip implant shifting around, then there is a problem either with the implant or with the surgery. See a physician immediately to get it checked out.
If you have suffered a personal injury or experienced adverse effects as a result of a defective medical device, call our knowledgeable and effective Los Angeles personal injury team to discuss your legal options. We serve clients across Southern California and nationwide. Morris Law Firm will give you a free, personalized evaluation and help you figure out your legal rights and next steps. Call us today at 747-283-1144 for a fast response or fill out our online contact form to schedule your free consultation.