How Metal Hip Implants Can Cause Metallosis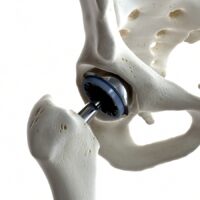 At their best, hip replacements are already a painful hassle. You go through multiple screenings and diagnoses, pre-surgery checkups, take time off of work, and then finally get the surgery. You then have to deal with months of recovery and post-surgery checkups. When complications with hip implants occur, it just adds insult to injury (plus more injury). While relatively uncommon, a condition known as "metallosis" can result from the implantation of a metal-on-metal hip implant. Read on to learn about how metallosis occurs and how to identify whether you may have metallosis. If you or a loved one has been hurt by a defective hip replacement or another malfunctioning medical device, call a seasoned Southern California defective medical device injury lawyer for assistance.
What is Metallosis?
On top of the general risks that all hip implants carry (infection, bleeding, fracture, dislocation, device loosening, etc.), metal-on-metal (MOM) hip implants carry an additional risk: metallosis. Metallosis is a type of blood poisoning that occurs when there is a build-up of metal debris in the body's soft tissue. Metallosis can occur when the various parts of a metal-on-metal implant rub together during walking or running, releasing tiny metal particles into the patient's bloodstream and the tissue surrounding the hip.
Signs & Symptoms of Metallosis
When metal particles (such as cobalt or chromium) build up in the blood and tissue, they can rot healthy red tissue and muscle around the implant, turning it into a dry, gray, dead mass. The condition can cause severe pain and loss of mobility. There are a variety of signs and symptoms to watch out for after receiving a hip implant, and the condition can arise months or years after the initial implantation. Some of the signs and health conditions associated with metallosis include:
Hypersensitivity of the skin and skin rash
Inflammation
Severe pain in the implant area or around the hip and groin
Bone loss
Numbness
Changes in the ability to walk, run, swim, or otherwise ambulate
Blood circulation problems
Cognitive problems due to impaired blood flow
Neurological changes
Impairments to renal or thyroid function
If you are experiencing any of the above after receiving a MOM implant, see a doctor as soon as possible to check the implant and test for metallosis. The longer you wait for diagnosis and treatment, the worse the resulting problems can become. Speak with a medical device attorney to discuss your options for compensation due to your defective implant.
If you have suffered a personal injury or experienced adverse effects as a result of a defective medical device, call our dedicated and compassionate Los Angeles personal injury team to discuss your legal options. We serve clients across Southern California and nationwide. Morris Law Firm will give you a free, personalized evaluation and help you figure out your legal rights and next steps. Call us today at 747-283-1144 for a fast response or fill out our online contact form to schedule your free consultation.