What to Do If Hit by a Driver With The Same Insurance?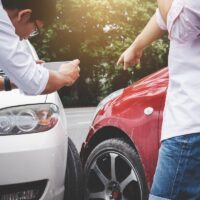 Dealing with the fallout from a car crash can be complex and frustrating at the best of times. Any additional complication can cause insurance claims to be delayed and lead to other problems. If you and the other driver in a wreck have the same insurance provider, you might have concerns about whether your claim will be treated properly and fairly. Read on for tips on what to do if you were hit by a driver with the same insurance, and call a dedicated Los Angeles car accident lawyer if you've been hurt in a car crash in Southern California.
Follow the Same Claims Process
If you were hit by another driver and you have the same insurance provider, you are still entitled to the same coverage as if you had different insurance companies. If the other driver was at fault, the insurance company should pay for your damages under their policy. The fact that you have the same provider should not keep you from recovery, nor does it mean that you will somehow owe more money, be entitled to less coverage, or face a higher premium after the accident.
The claims process is the same as with different insurance providers, as well. California is an at-fault state for auto insurance, which means that the at-fault driver pays for the property damage and medical bills of other parties involved in an accident. After an accident at which you were not at fault, you would typically report the accident to your own insurance company, but you would not be responsible for filing a claim with the other insurance company. You'd inform your provider of the bare facts that you were in an accident but that it was someone else's fault, and give them the information for the insurance provider of the at-fault party. If the other insurer refused to pay, you'd need to pursue a personal injury action, with the help of your attorney.
If you have the same insurance provider, the process is the same, except that you are both calling the same insurance company. Call the number provided by your insurance company and let them know that you've been in an accident, but that someone else is at fault. Let them know the other person has the same insurance and will also be contacting them. The insurance company will then handle the claim internally, likely by appointing a separate claims adjuster for each of the parties involved.
What if There's a Disagreement About Fault?
If both claims adjusters agree that one party was at fault, then the claims adjuster overseeing the at-fault driver's policy will process the claim and provide compensation to the other driver. If, however, there is a disagreement about fault, then the process can get more complicated.
Typically, the two claims adjusters will investigate the accident and act as if they work for different insurance companies. That means that both will be looking for conclusive facts establishing who was, in fact, at fault. Two adjusters from the same company would never start a lawsuit to ultimately decide upon liability; instead, they'll come to an agreement based on their respective investigations. In many cases, the insurer will even waive the deductible for the driver deemed "at fault" to avoid claims of being impartial or making a bad faith decision.
Unfortunately, you cannot expect insurance companies to always make the best decision for the policyholders. They make an agreement behind closed doors that attempts to limit the payout to the injured accident victim. If you do not get full and complete compensation for your injuries, or if you have sustained a serious injury and want to ensure that you are covered fully, talk to a seasoned car accident lawyer for help getting the benefits you are owed.
If you were injured in a car accident in Los Angeles, you need trusted, effective legal help to protect your rights. Reach out to a California auto accident attorney at Morris Law Firm to find out if you have a claim for damages. Morris Law Firm will give you a personalized evaluation and help you figure out your legal rights and next steps. Call us today at 747-283-1144 for a fast response or fill out our online contact form to schedule your free consultation.