Delayed Symptoms After Car Accident: What to Look Out for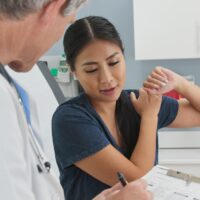 Not every injury common to car accidents is readily apparent. Some injuries can be hidden for days or even weeks after a crash. Car accident victims may have suffered a concussion, internal bleeding, organ damage, or other latent injuries that are hard to self-diagnose and may not show symptoms for some time. We always strongly encourage accident victims to see a doctor as soon as they can after a crash, even if they do not think they have any major injuries. Read on for a discussion of some of the symptoms to watch out for after an accident, and call a dedicated Los Angeles car accident lawyer if you've been hurt in a car crash in Southern California.
Concussion
Concussions are a common form of traumatic brain injury (TBI) caused by car crashes. Any sudden, severe impact to the head can cause a concussion by rattling the brain around the inside of the skull. Many people do not experience the symptoms of a concussion right after the impact. Within a few days after a car accident, watch out for symptoms of concussion or other TBI including:
Dizziness
Nausea
Vertigo
Mood swings
Confusion
Trouble sleeping and sleeping pattern changes
Slowed response times
Migraines
Loss of memory
Light or sound sensitivity
Whiplash
Whiplash is a form of neck sprain that often results from rear-end collisions, even at low speeds. Whiplash can occur when the head and torso are thrown in opposite directions, whipping the head and neck back and forth at a high speed and causing damage to the soft tissue of the neck. Symptoms of whiplash include:
Neck or shoulder pain
Headaches
Dizziness
Fatigue
Trouble concentrating
Numbness in the hands or arms
Ringing in the ears
Internal Bleeding and Organ Damage
If you experience abdominal pain one or two days after a car crash, get medical attention immediately. You may have severe damage to your internal organs or ribcage. Internal bleeding and organ damage are very serious consequences of car accidents. Watch out for abdominal pain as well as other symptoms from several hours to several days after an accident. Symptoms to watch out for include:
Nausea
Fainting
Deep purple bruising
Diarrhea
Fever
Stomach pain
Dizziness
Muscle Strains and Tears
Sprains, strains, tears, and contusions (bruises) are also commonly suffered in car accidents. Pain, stiffness, limited mobility, and discoloration might not arise for several days or more after an accident even if the injury was caused by the crash.
Mental Health
Finally, it is important to keep track of your mental state after an accident. A serious wreck can be a terrifying experience, and many people suffer from conditions such as post-traumatic stress disorder (PTSD) after a serious crash. Watch out for signs of PTSD or other mental health issues, such as mood swings, depression, inability to concentrate, negative thinking, anxiety, or other behavioral changes.
If you were injured in a car accident in Los Angeles, you need seasoned, effective legal help to protect your rights. Reach out to a California auto accident attorney at Morris Law Firm to find out if you have a claim for damages. Morris Law Firm will give you a personalized evaluation and help you figure out your legal rights and next steps. Call us today at 747-283-1144 for a fast response or fill out our online contact form to schedule your free consultation.