What is Comparative Negligence in Terms of Defective Products in CA?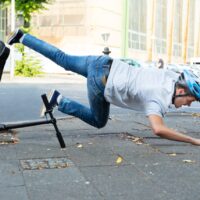 Comparative negligence is one of those legal terms that many people have heard but, outside of lawyers, most people do not fully understand. The concept is a go-to defense for manufacturers and distributors of defective consumer products who claim that the user was at fault when one of their products malfunctions and injures someone. To understand how comparative fault works in California defective products claims, read on. If you or someone you care about has been hurt by a faulty product in Los Angeles, call a seasoned Southern California defective products attorney for advice and representation.
Comparative Negligence in General
Comparative negligence, also called "comparative fault" or "shared fault," refers to the relative levels of culpability of each party involved in an injury claim. In the prototypical personal injury claim, one party is entirely innocent–for example, a pedestrian in the crosswalk with the "walk" signal–and the other party is entirely to blame–a driver who was texting and ignored a red light, causing them to hit the pedestrian. In that case, the plaintiff would be entitled to recover 100% of their damages from the at-fault driver.
Often, however, the plaintiff is not entirely without blame. If one driver was texting while driving and was distracted, but they are hit by another driver who blows through a stop sign, a judge or jury might decide that the running-the-stop-sign driver was 75% at fault for the crash while the texting driver was 25% responsible. If the texting driver suffered $10,000 in damages due to injuries sustained in the crash, they would be limited to collecting $7,500 (or 75% of $10,000) from the other driver.
In some states, a plaintiff can only recover damages if they are 50% or less at fault for the incident. California, however, is a "pure comparative negligence" state, which means that a plaintiff can recover damages even if they were 99% at fault. In the example just given, the driver who ran the stop sign would be able to counter-sue and recover 25% of their own damages from the texting driver.
Comparative Negligence in Products Liability
Manufacturers and suppliers of defective products will try to do anything they can to limit their liability for damages caused by their faulty products. They may try to claim that the plaintiff was somehow partially at fault for their injuries because they misused the product or otherwise ignored the instructions. If the manufacturer or distributor of a product can successfully show that a consumer was partially to blame for their injuries connected to a defective product, they might be able to offset some of their liability.
To reduce their liability after a consumer is injured by a defective product, manufacturers or other defendants must establish:
The plaintiff negligently used, misused, or modified the product at issue; OR
a. the plaintiff otherwise acted negligently; AND
The plaintiff's negligence was a substantial factor in causing the plaintiff's harm.
Comparative fault could apply when a plaintiff modifies a consumer product and that product is less safe as a result, when a consumer ignores the instructions for a device and their misuse of the device contributes to an injury, or when someone is otherwise negligent in their use of a product.
For example, let's say a plaintiff is injured when the brakes of their car fail and they crash. The plaintiff, however, was not wearing a seatbelt at the time of the crash. The auto manufacturer might be able to claim that the plaintiff, by ignoring California traffic safety laws and failing to wear a seatbelt, was acting negligently. If their injury would not have occurred, or would not have been as severe, had they been wearing a seatbelt, then the auto manufacturer may be able to reduce their liability.
Likewise, if a plaintiff is injured by a piece of heavy machinery, but the plaintiff modified the machinery to remove the safety guard (in order to heighten convenience), the manufacturer might be able to claim that the plaintiff would not have been injured as severely if the safety guard were in place, even though the plaintiff's injury was still caused by the device malfunctioning.
Countering Comparative Fault
Judges and juries do not need to take a manufacturer at their word that a plaintiff shared fault. Manufacturers of products are expected to anticipate misuse (intentional or unintentional) of their products and warn against them. If a manufacturer knows that a particular misuse of a product is likely, or that consumers are likely to modify a product in a certain way because the product as designed is not optimal for the intended purpose, then they must include specific warnings against that form of misuse.
The jury will thus have to consider whether a certain misuse or modification was foreseeable, such that the manufacturer should have foreseen it and warned against it, before deciding that a plaintiff was, in fact, negligent in their use, misuse, or modification of a product.
If you were injured by a defective product in Los Angeles, you need savvy and experienced legal help to protect your rights. Reach out to the California products liability attorneys at Morris Law Firm to find out if you have a claim for damages. Morris Law Firm will give you a personalized evaluation and help you figure out your legal rights and next steps. Call us today at 747-283-1144 for a fast response or fill out our online contact form to schedule your free consultation.